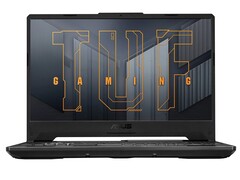 Cheap gaming laptops with a GeForce RTX 3050 are a popular choice among budget-conscious gamers, as Nvidia's most affordable mobile graphics card with RT cores has a pretty intriguing price-performance ratio. This is certainly the case when a corresponding 15-inch machine is on sale for a discounted price, which is now the case with the Asus TUF Dash F15 at Best Buy.
The major US retailer is currently selling the aforementioned Asus TUF Dash F15 gaming laptop with the adequately performing Intel Core i5-11400H hexa-core processor and an Nvidia GeForce RTX 3050 dGPU with 4GB GDDR6 VRAM for just US$599 including free shipping or pick up in the store in many locations in the country. The official list price of this budget-friendly notebook comes in at $799, meaning this deal offers $200 or about 33% in savings. Note that this configuration comes with a rather paltry 8GB DDR4 RAM, but the memory can be easily upgraded with a compatible SO-DIMM module which can be ordered from US$40 on Amazon.
We tested a slightly different version of this 15-inch gaming laptop last year and we especially liked that the Asus TUF Dash F15 comes with a Thunderbolt 4 port and stays very quiet at low loads. The IPS display also has a pretty fast 144Hz refresh rate, which makes it perfect for fast-paced action games and shooters like the upcoming Call of Duty Modern Warfare 2. But as with many comparable notebooks in this price range, the display is quite dim and the chassis isn't the sleekest we've seen due to the rather large bottom bezel. Nevertheless, this deal may still be a good choice for many budget-minded buyers who can't or don't want to spend more than US$600 on a new gaming laptop with an RTX 3050.
Get the Asus TUF Dash F15 on sale for US$599 at Best Buy
Disclaimer: Notebookcheck is not responsible for price changes by retailers. The discounted price or deal mentioned in this article was available at the time of writing and may be subject to time restrictions and/or limited unit availability.

My fascination with technology goes way back to the Pentium II era. Modding, overclocking and nurturing computer hardware has become an integral part of my life ever since. As a student I developed a great interest in mobile technologies that can make stressful student life so much easier. After falling in love with creating digital content while working in a marketing role, I now scour the web to bring you the most exciting topics in the world of technology. Outside the office, I am especially passionate about motorsports and mountain biking.