Highest since 2008 due to rising oil prices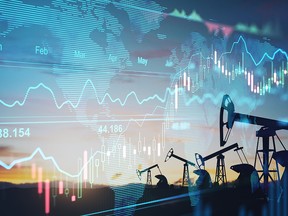 Article content
Canada's trade surplus grew to its largest in 14 years as the country benefits from rising world prices for its crude oil.
Article content
Exports surpassed imports by $5.3 billion in May, the highest since August 2008. The surplus was more than double economists' forecasts and the $2.2 billion surplus reported for April.
Total exports rose 4.1 percent, led by a 9.2 percent increase in crude oil supplies. Rising prices for energy and other commodities over the past year have helped the nation create recurring surpluses for the first time since 2014, cushioning global economic headwinds and supporting the nation's currency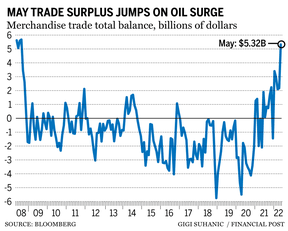 In the first five months of 2022, the country recorded a total of $15.9 billion in surpluses. Canada had a trade deficit of $1.5 billion in the same period last year.
But the sharp rise in oil is also making the country increasingly dependent on fossil fuels. Energy exports rose 5.7 percent to $20.4 billion in May, representing 30 percent of total shipments — an all-time high. Most of these are fossil fuels such as crude oil and natural gas, which accounted for 29 percent of exports in May.