Key events:
WICKET! Mills c and b Harshall 7 (England 120-8)
Done by the slower ball, tries to swing over the slips but just throws it back to the bowler.

15th over: England 115-7 (Jordan 4, Mills 7) England need 84 out of 30, which should be impossible, although a lot depends on India's ability to hold on to its catches: another goes down when Hooda drops Mills on Chahal.
14th over: England 106-7 (Jordan 2, Mills o) Karthik has a jolt behind the stumps and lets Jordan slip between his gloves as he jumps to the right. But he later pocketed Curran in the over to give Hardik his fourth and Tim de Lisle the fortune teller of the match award.
WICKET! Curran c Karthik b Hardik 4 (England 106-7)
Seeking to hook at the back, shuffles to the left, but the contact is soft and Karthik makes up for it! Another one for Hardik.

13th over: England 101-6 (Curran 0, Jordan 1) This is now slipping out of England unless a hump comes out of the tail.
WICKET! Moeen stumped Karthik b Chahal 36 (England 100-6)
Moeen sees a full toss, moves forward but misses and Karthik makes the case after fluffing it on the first try.
WICKET! Brook c Yadav b Chahal 28 (England 94-5)
The end of a smart innings by Brook, when he draws Chahal, but sends it to Suryakumar with a special delivery at deep midwicket.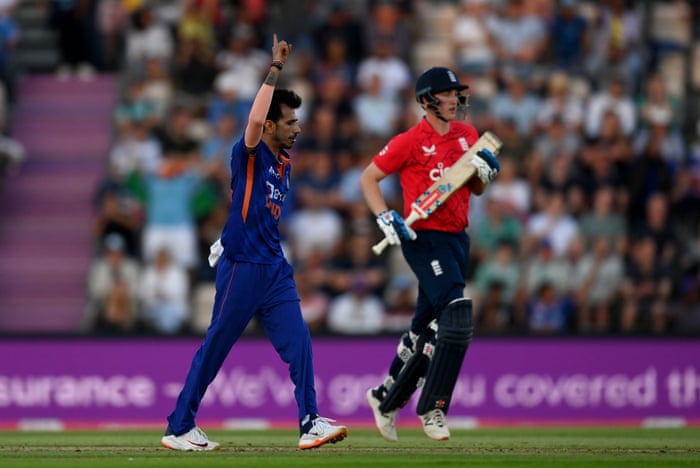 12th over: England 94-4 (Brook 28, Moeen 30) Picks a go-go, before Moeen takes Axar in for a four, then scoops him up, up and away for six!
11th over: England 80-4 ( Brook 26, Moeen 19) Chahal picks up after a drink. An ugly top edge of Moeen brings four, and the sun has now left the cut strip. Ah, and that's another DROP from India! This time it's Moeen who gets life when he cuts and the ball slips in and out of Suryakumar hands on extra cover.
10th over: England 72-4 (Brook 25, Moeen 13) The English winter enemy Axar gives Brook a present that he whistles through the covers four times. At the halfway point, India is still on top, but if these two get going…
"Is this the point where Brook & Moeen pull a Root & Bairstow, except for amphetamines?" I'll tell you in ten overs, Tim Pearson.
9th over: England 62-4 ( Brook 18, Moeen 12) Time for some leg spin from Chahal. Moeen sweeps with style, felting the bat over square leg.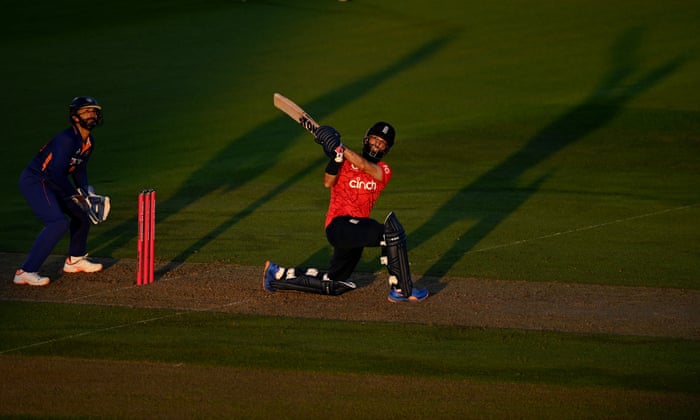 Tim de Lisle – a man whose brain never shuts down – lets me know: "The last big T20 game Buttler played was the IPL final and it was Hardik who got in his way – take him out, take two other wickets, some runs, winning the Player of the Match award and lifting the trophy."
8th over: England 53-4 ( Brook 17, Moeen 5) Moeen bends the front knee just like the coaching books say and the ball spirals through the covers for four. A handful of singles and then Brook takes on another life, deliberately pushing Harshal high into the air, but Karthik returns and slips while catching.
Yes! Harshal's are true single grazers.
7th over: England 45-4 (Brook 13, Moeen 0) Jos Buttler's pale blue eyes stare into the middle of the distance on the balcony as Roy's parked car is put out of its misery. Brook slides down the briefs four before hitting Hardik for another six. A cleverly run two finishes the crossing, poking in and out of the shadows.
WICKET! Roy c Harshal b Hardik 4 (England 33-4)
A flying top edge screams in blue before falling into the patient hands of Harshal on deep third.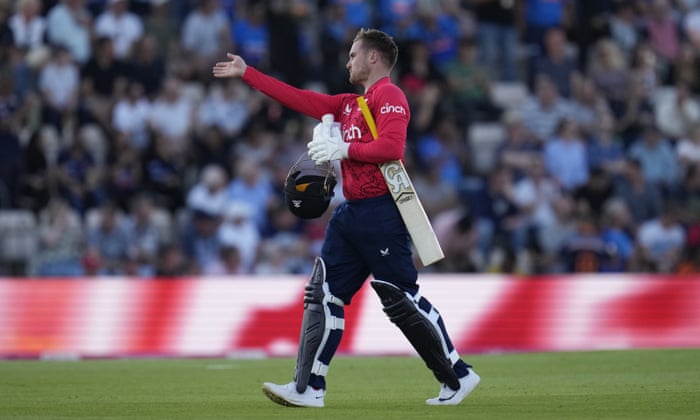 6th over: England 32-3 (Roy 4, Brook 1) Bhuvneshwar is a tough man to face with 32-3. Roy can't get going and looks frustrated at his bat. Brook, I think, is dropped behind the sticks at 0 by Karthik. And England is stuck in first gear.
5th over: England 29-3 (Roy 3, Brook 0) Malan square cuts a fourth four from Hardik before marbling his stumps. Livingstone arrives, in helmet cam" and immediately has a huge wave and misses but picks up a leg bye. It's about as good as it gets before he tries an inelegant paddle straight at the keeper
"Hey Tanya." Andy Gold, hello!
What a time to get paid to watch cricket (or even enjoy myself just hiding from five annoying kids in the yard listening to it!)
"Have umpires' standards ever dropped (over 19, Indian innings) or has the evolution of TV really just emphasized how hard the job is? My father was a club umpire who had reached the senior level of Herts League Club cricket. After showing how often the very best in the industry were wrong, DRS made the decision to retire rather than spend his weekends, presumably making even more wrong decisions than the pros!"
WICKET! Livingstone c Karthik b Hardik 0 (England 29-3)
A shimmy and scoop… straight to the keeper.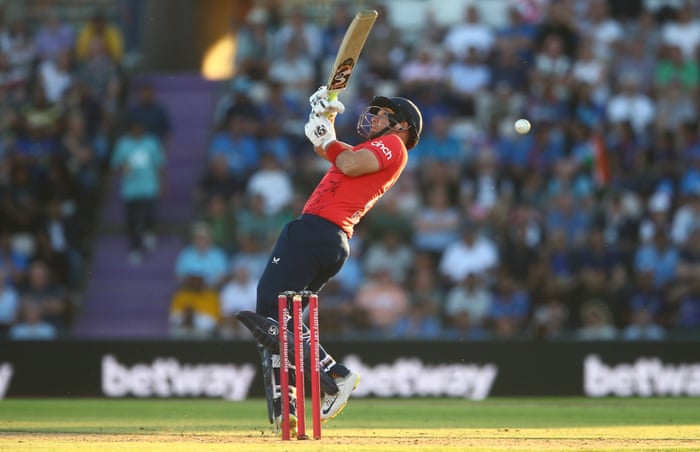 WICKET! Malan b Hardik 21 (England 27-2)
Inner rim and there you go!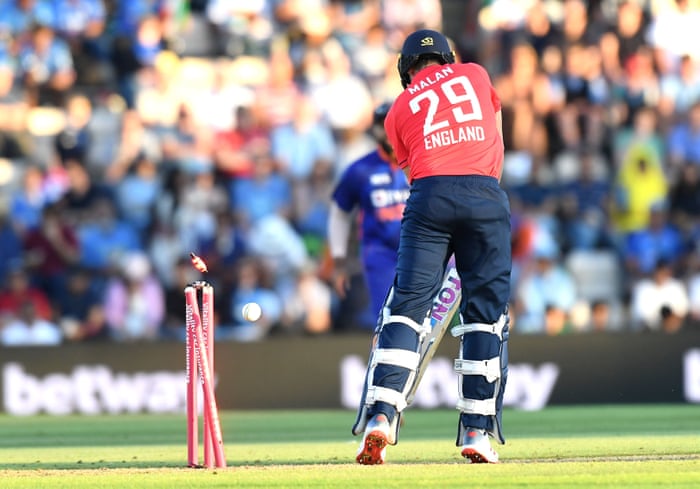 4th over: England 23-1 (Roy 2, Malan 17) The first ball offf Arshdeep's second over is hit high but just out of reach by Malan. A couple of beauties, until Malan picks up a line, pulls him to midwicket and then slams the next square.
"David Keech brings up an interesting point about DRS and walking," muses Martin Wright. "So what about this? If you didn't hit it, but see the dreaded finger raised, you could show respect for the poor old ump by walking straight away, but signaling for a review at the same time, then enjoy the march back to center when the decision finally comes through. Considering the time some of them take ("still waiting for ultra edge", etc.), you might even want to rub the Pav a bit before going out again."
3rd above: England 12-1 (Roy 2, Malan 6) Bhuvneshwar slides in from the long shadows. "As the ball swings, this is the period of danger," says Steven Finn. So true, but finally a boundary when Malan crosses inches and sends the ball over midwicket
So true, I would pay a lot of money for those lashes.
2nd over: England 5-1 (Roy 1, Malan 0) Arshdeep is the first in internationals, tall, slim, with a black turban. Movement in the air. Roy waves on his second and fifth but can't make contact. An lbw appeal polishes the over and that is very nicely done.
1st over: England 3-1 (Roy 1, Malan 0) Three lavish humdingers in a row from Bhuvneshwar, enough to land a second slip. Roy lifts a single, happy to get down the other side, only to see Buttler being tipped by a swinger. Delicious bowling.
WICKET! Buttler b Bhuvneshwar 0 (England 10-1)
Nice from Bhuvneshwar: A ball billows in and Buttler begins his captaincy with a duck.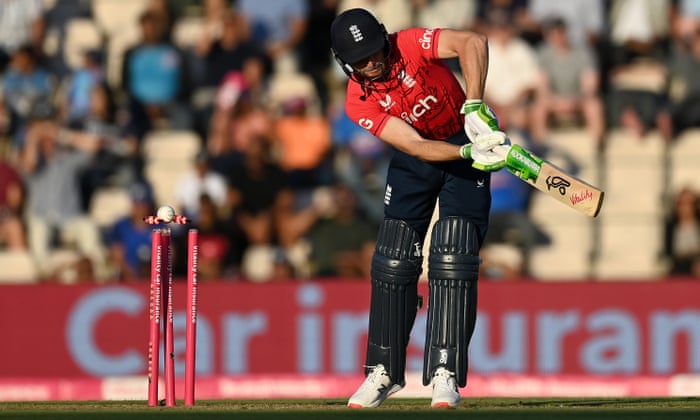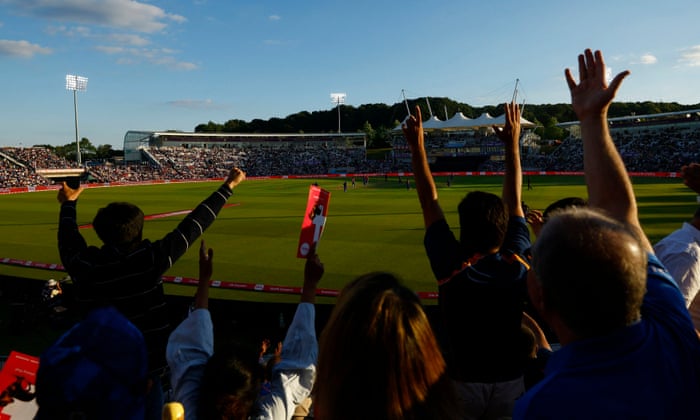 When the sun begins to set, here comes the pursuit of England.
20th over: India 198-8 (Arshdeep 2, Bhuvneshwar 1) Mills bowls the last one and it is first blood Karthik who ping pongs him for two consecutive fours. But Curran grabs the edge, a muddle brings another wicket and after a flying start, India limps across the line rather limp. Still a huge total.
WICKET! Harshal run out 3 (India 195-8)
Yes-no- what- wait – oh. Confusion defeated by Buttler's pitch.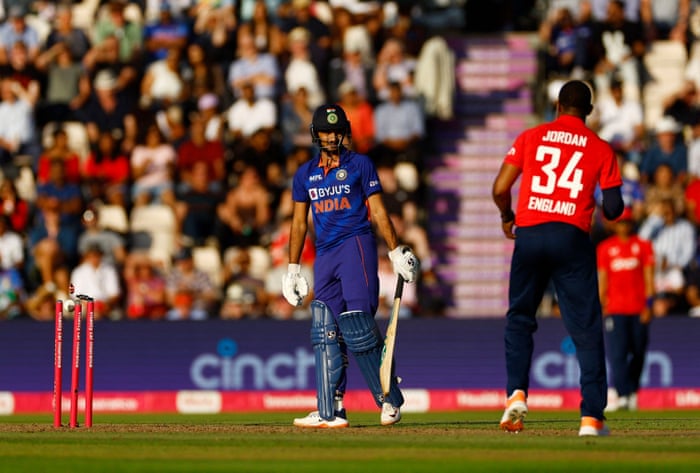 WICKET! Karthik c S Curran b Mills 11 (India 195-7)
Smashing catch of Sam Curran, bounce back, catch on the run and hold as he lands with a thump to his stomach.

19th over: India 186-6 (Harshal 3, Karthik 3) It is the miserly Jordan that Harshal and Karthik must flee. And they can't, though they pick up a cheeky single from an overthrow of Buttler. India falls short in their great start here. Super bowling by Jordan: 4-0-23-2.
An email comes in from David Keech: "A little bit of cricket history from a 72-year-old who has been following cricket closely since he was ten. Years ago, in the days of Colin Cowdry and Peter Mays and before, it was the custom to walk – admit you're out – when you know you hit the ball Then refereeing standards went downhill and pretty much all walking stopped The thought was "If I'm convicted of a horrible decision I'll have to cash in if the foul in my favor". It was the reason DRS was introduced in the first place. Of course with DRS there shouldn't be a reason not to go back to walking, but old habits make it difficult…."
18th over: India 181-6 (Harshal 1, Karthik 1) Topley is back, the camera pans up and we see the trees in their best summer bloom behind the hotel. A great near-death left, just four runs and Hardik's crucial wicket. Two new batters in the last three overs.
WICKET! Hardik c Brook b Topley 51 (India 180-6)
Hardik is ready to hit but instead he cuts the ball to the low point where Brook rushes in and thanks a lot.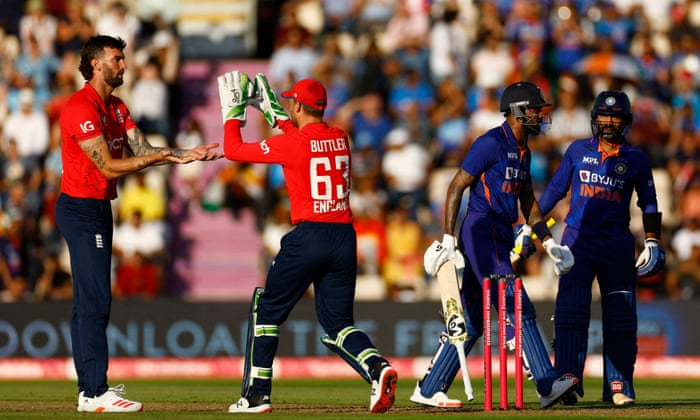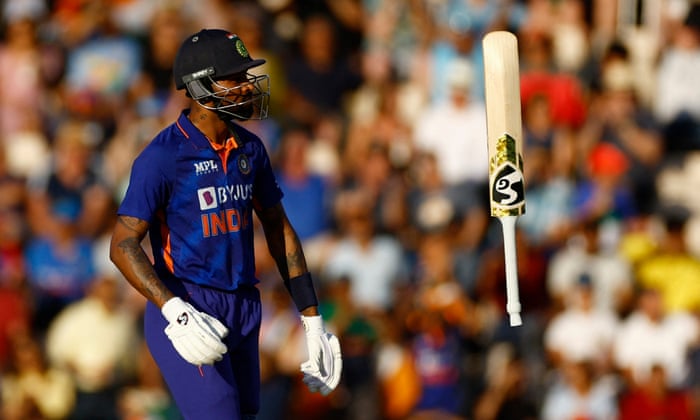 17th over: India 178-5 (Hardik 50, Karthik 0) A walk, a four, a wicket and then a six as Hardik Parky throws for six into the crowd.