Sellers can expect fewer first-time buyers on the home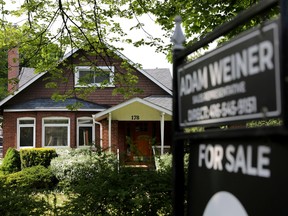 Reviews and recommendations are unbiased and products are selected independently. Postmedia may earn an affiliate commission for purchases made through links on this page.
Article content
Good morning!
Article content
Sellers can expect fewer first-time homebuyers as more than nine million Canadians doubt they'll ever become homeowners.
According to a new report from Finder, a comparison site, about 29 percent of adults age 18 and older have given up homeownership or have resigned themselves to being "forever renters."
Finder's 'Generation Rent' survey found that the number of people who are not interested in owning a home has risen significantly in recent years. In fact, nearly two million more Canadians report no interest in owning a home now than they did before the COVID-19 pandemic. More than five million adults (16 percent) said they were no longer interested in becoming a homeowner this year, compared to just one in ten in 2019. That's a 60 percent increase in just three years.
Article content
"Buying a home is an important decision that requires significant emotional and financial commitment," said Romana King, senior financial editor at Finder, in a press release. "For many, the erosion of housing affordability coupled with rising mortgage costs means that the barriers to owning a home now seem almost insurmountable."
The number of Canadians expecting to move from renting to buying has also fallen in the past two years. Only 10 percent of adults currently expect to buy their first home in the next five years, compared to 17 percent in 2020 – a 70 percent drop.
Another four million Canadians (13 percent) expect to rent for the rest of their lives. "Getting up the real estate ladder can be out of reach for many potential new home buyers," King said.
Article content
The survey results showed that attitudes towards home ownership differ between different age groups, with the youngest generation being the most hopeful. Nearly half (45 percent) of 18- to 24-year-olds said they think they will own a home within 10 years. In contrast, those between the ages of 35 and 44 were the least hopeful, with 18 percent confident they will rent forever.
"While there are significant hurdles to overcome — such as a large down payment and eligibility for loans at higher mortgage rates — it is still possible to fulfill the homeownership dream. The work to make this possible begins long before you hit the mark. "for sale" apps opens," King says.
King added that Canada needs to help new home buyers because they are crucial to the country's real estate market. The country's relatively high home ownership rate has little to do with first-time buyers, as Canada ranks in the bottom third of comparable countries, according to data from the Organization for Economic Co-operation and Development.
Article content
"It's important to help first-time home buyers, as they are the engine of the housing market," King said. "Whether it's educating buyers about the sales process, helping define loan terms, implementing discounts and tax-free savings incentives, or getting the best mortgage rate for buyers – every little bit helps."
However, the report points out that home ownership isn't the only way to grow your wealth. "Generation Rent" can accumulate wealth by consciously managing their savings, learning how to invest and using their geographic flexibility to their advantage.
†
Has this newsletter been forwarded to you? Sign up here to get it in your inbox.
†
Article content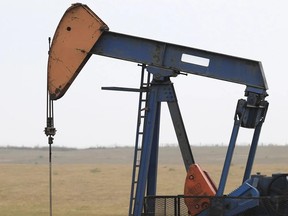 OIL RESERVES SEE 'LARGE' DROP Add another challenge to the already strained global oil supply – dwindling reserves, writes Gigi Suhanic of the Financial Post. Global recoverable reserves have fallen by nine percent since 2021, according to a new report, a "significant drop" and yet another threat to the world's precarious energy security. Keep reading for more details. Photo by Ian Kucerak/Postmedia
†
Canada Mortgage and Housing Corp. publishes its biennial Residential Mortgage Industry Report
Real estate boards in Toronto and Quebec release home sales figures in June
Mary Ng, Secretary of International Trade, Export Promotion, Small Business and Economic Development, will highlight a development related to the Canada Digital Adoption Program in Vancouver
Today's data: US ISM Services PMI, US Job Vacancies and Turnover Survey, and US FOMC Minutes
Income: Goodfellow Inc.
Article content
†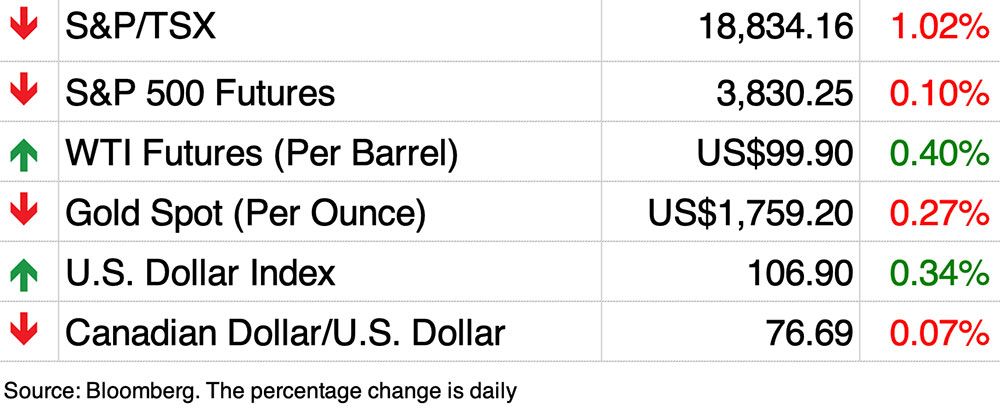 †

†
Natural gas is currently the most popular commodity in the world, with price increases that are extreme even by the standards of today's turbulent times – some 700 percent in Europe since the beginning of last year. It now competes with oil as the fuel that shapes geopolitics. And there's not enough of it to go around. Read on for the full story.
Article content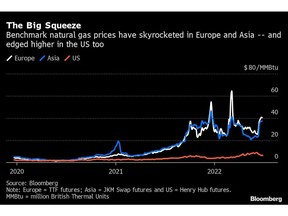 †
Stagflation, often referred to as a 'perfect storm', has been on the rise of late as inflation continues to climb and the economy shows signs of stagnation. So are those dark clouds on the horizon or are we getting ahead of things? Economists aren't sure, but they do agree that a return of stagflation would be just as welcome as a revival of Jell-O salads. Read on for more details from our content partner MoneyWise Canada.
†
Today's Posthaste is written by Noella Ovidius, with additional coverage from The Canadian Press, Thomson Reuters and Bloomberg.
Do you have a story idea, pitch, embargo report or a suggestion for this newsletter? Email us at [email protected], or click reply to send us a message.
Listen to Down to Business for in-depth discussions and insights into the latest Canadian business news, available wherever you get your podcasts. Watch the latest episode below: