The Open to Inspections on Monday mornings are usually a time for participants to give honest feedback on the work of the other teams.
But today, the walk raises more than a few questions about the teams' design choices.
Stream the latest episodes of The Block on 9Now for free
After checking out Ankur and Sharon's rooms, the other contestants are "confused" about how the couple – who are supposed to pay off a $53,000 debt – can still deliver such complete rooms.
"They're over budget again, how do they pay for transactions to do all this paneling work?" asks Ryan.
But the Blockheads really get a knot in their pants when they see the giant mirror in Ankur and Sharon's living room.
"This is where I'm confused, there's no money, apparently there's absolutely no money, so where did that mirror come from," Rachel says.
The mirror has Jenny absolutely seething.
READ MORE: Teams furious after inspecting Ankur and Sharon's spare room
"I thought once you're cut off, your card is taken and you can't really finish it," Jenny tells cameras.
"I don't want them to be finished, but to be honest, we could have gone over budget and still present rooms like they did.
"We're playing the game wrong if we do everything by the book and everyone else spend a little bit of money and just get paid for it. That pissed me off."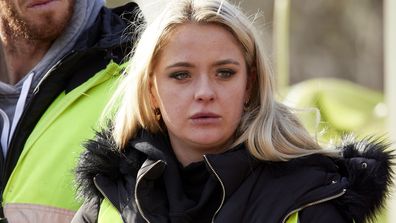 If everything is in order, Jenny goes straight to Ankur and Sharon to ask them how they could afford that mirror.
And as Ankur and Sharon explained to cameras last week, they tell Jenny that a very generous salesperson gave it to them.
READ MORE: Teams react to Scott Cam serving up his homemade corned beef
After all the questions, Sharon shifts the focus from House 3's budget to Omar and Oz's extravagant landscaping plans, which include a helipad, swimming pool, three-pair golf course, and multi-purpose sports field.
The mention of these plans makes Jenny "excited" and she goes straight to Omar and Oz to question them about their finances and big plans.
Omar clarifies that the boys have had to abandon the helipad plans because they don't have enough money.
But Jenny is still "pissed" that she can't carry out her original landscaping plans because she tries so hard to stick to the budget.
Chippies Dylan and Jenny have worked especially hard to cut costs by doing much of the work themselves.
"We've been working every day to stay ahead of the budget and I just don't know how everyone is doing," Jenny tells Omar and Oz.
Oz says they do it because they work as hard as Dylan and Jenny, but Jenny is quick to disagree.
"But you don't, you're always driving around," she says.
At some point during all the back and forth, Rachel joins the conversation and side with Jenny.
READ MORE: Teams unleash budget frustrations at Foremen Keith and Dan
Oz says he understands the girls' frustration, but everyone makes sacrifices, even believing that he and Omar make greater sacrifices.
"You have to understand that Omar and I have sacrificed more than you," he says.
"We have to divide the money. I take half the money for my family and he half for his."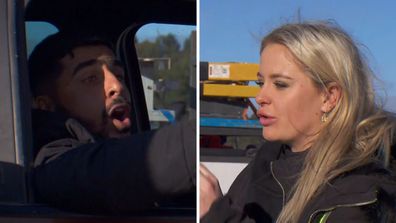 The girls don't take it and from there it really starts.
Some Blockheads are happier watching the drama from a distance rather than being in the middle of it.
Sharon watches everything unfold from the comfort of her car.
"Can you go back?" she asks Ankur. "I want to be part of the conversation, but I don't want to get out of the car."
Nevertheless, the conversation turns to Sharon's car when Rachel digs to find out how a supposedly "broken" Ankur and Sharon can afford something.
"To be honest, we didn't know we had to answer to them," Sharon told cameras.
Ankur does his best to give everyone some answers and allay the worries that this is not a fair game.
But nothing about this exchange has eased Jenny's concerns.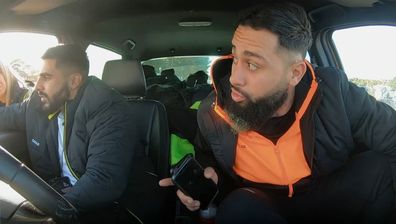 "Within a minute there's a fight," Jenny laughs.
"I feel like I'm going to headbutt someone like that."
Fortunately, that doesn't happen, and as Sarah-Jane says, "the tensions were high for about 20 seconds and then it was over."
It's no wonder that all Blockheads are worked up over their budgets. They are figuring out how to spend their allotted $25,000 to complete their massive outdoor sheds and work from home this week.
"There's just no way we were going to cover the whole space, the whole shed and have the media room done for $25,000, that just wouldn't happen," Rachel says.
Well, only time will tell if the contestants really have enough money in the bank to finish this week.
In pictures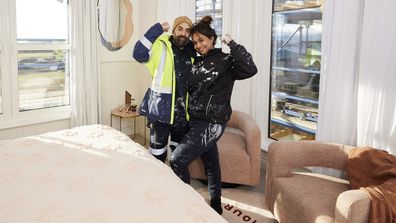 Ankur and Sharon .'s guest room
Confusing styling leaves the judges wanting more.
View gallery
The Block airs Sundays at 7pm and Monday through Wednesday at 7:30pm on channel 9. Stay tuned for all latest episodes on 9Now.