Sir Keir Starmer has mocked Liz Truss for dodging an urgent question about the economy in the House of Commons, saying "the lady is not up for the show".
Commenting on Penny Mordaunt, the Labor leader thanked her for answering the question, adding: "I think under this Tory government everyone should be prime minister for 15 minutes."
Politics Live: Jeremy Hunt Tearing Up Liz Truss's Economic Strategy
He continued: "Mr President, the country is in an economic crisis that has arisen in Downing Street because they have lost all credibility.
"Government borrowing costs have skyrocketed, mortgage rates have exploded. Markets need reassurance and there is long-term damage that cannot be reversed."
He added: "Once you crash the car at 100 miles per hour, you've damaged it for good and you're going to pay a lot more for your insurance in the years to come. And it's the working people who will pay."
Sir Keir accused the prime minister of "hiding" and said she was "afraid of her own shadow".
Other MPs also asked the prime minister's whereabouts, with Labour's Stella Creasy asking if she "crawled under her desk and asked for everything to go away".
The Leader of the House of Commons, Ms Mordaunt, said she is replacing Ms Truss as the Prime Minister is "held on urgent matters", adding: "I can assure the House that, with regret, she is not here to very good reason."
After dodging the confrontation with the Labor leader, Mrs Truss entered the room for Jeremy Hunt's statement.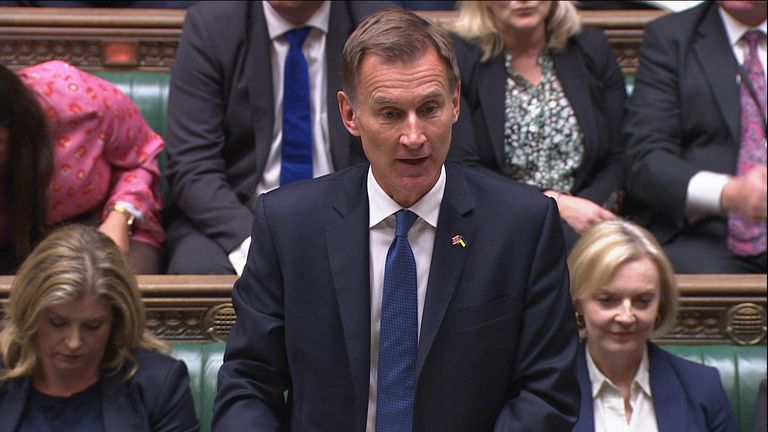 The Prime Minister Fights For Her Political Life After The New Chancellor dumped most of the economic strategy who hired her six weeks ago.
In an emergency statement intended to calm markets on Monday morning, Mr Hunt announced that support for household energy bills would be scaled back and that "almost all" of the tax cuts promised by his predecessor Kwasi Kwarteng would be reversed.
Sir Keir said the prime minister has no mandate for the changes and says instead of leadership there is a "vacuum".
He told the Commons: "Now is the time for consistent messaging. But what do we get? A prime minister who says absolutely no austerity, a chancellor who says there will be austerity. A prime minister who says she's in charge, a chancellor who thinks he's the CEO and she's just the chair."
He added: "How can Britain get the stability it needs if the Prime Minister has no mandate from her party and no mandate from the country?"
Ms Mordaunt defended the Prime Minister's decision to fire Mr Kwarteng, an old friend and ally.
She deferred questions about the economy to Mr Hunt, who then addressed the commons and announced the formation of a new economic advisory board to provide "more independent expert advice" to the government.
The changes Mr Hunt revealed earlier today include:
No reduction in dividend tax rates
Withdrawal of the relaxation of the IR35 rules for the self-employed introduced in 2017 and 2021
No new VAT-free shopping scheme for foreign visitors to the UK
No freeze on alcohol excise rates
Income tax base rate will remain 20%, not decrease to 19% from April 2023
Energy price guarantee only until April 2023.
The government had already abandoned plans to abolish the 45p income tax rate for top earners and had pledged not to raise corporate taxes, vice versa.
The changes have drastically reduced the cost of Mr Kwarteng's £45bn tax refund, cutting it by around £32bn.
Mrs. Truss is now fighting to save her premiership, and some Tory MPs are publicly calling for her to leave.
Senior Tory backbencher Sir Charles Walker said the prime minister's position is "hugely precarious".
Ms Truss will meet the moderate One Nation Conservatives group in parliament on Monday evening for an informal reception with her cabinet.