Companies reported the first broad increases in production in June and in their outlook, S&P Global reported Tuesday.
Producers that adapt
"Russia is in a much milder recession than feared when the invasion began," JPMorgan economists wrote this week, reducing their projected contraction this year to 3.5 percent from the 7 percent they expected in March.
Industrial production rose 1.7 percent in May from the previous month, according to seasonally adjusted data from the Development Center of the Higher School of Economics in Moscow. "The break in the contraction in May could be a sign that producers have initially adapted to the shock of anti-Russian sanctions," the center said.
A big driver was a rebound in oil production, which fell after the invasion but rose 7 percent from those lows in June thanks to domestic demand and a shift to export buyers in Asia.
Gas production, another major economic driver, declined, but prices have risen, driving revenues up.
"We are not at the stress level we assumed for 2022," said Rosbank economist Evgeny Koshelev. "We should expect better trends as both fiscal and monetary policies are generally stimulative."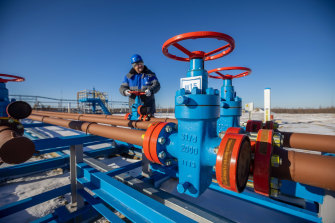 Retained recession?
Retail sales are down about 10 percent, but the decline appears to have stabilized in an industry that accounts for about half of the economy. Consumer confidence has risen and unemployment remains at an all-time low. Cash register data shows purchases rose to pre-war levels in late June, Economy Minister Maxim Reshetnikov said at a government meeting on Tuesday. "But it's still early to talk about stabilization," he said.
Imports, which fell 40 percent in April, are also showing signs of stabilization.
The government has also stepped up spending on welfare programs and military purchases, providing an additional economic boost. The central bank has reversed all interest rate hikes imposed since the invasion.
"Activity indicators suggest there is significant benefit" to our forecast of a 7 percent decline for this year, Goldman economist Clemens Grafe said in a research note.
"We are not at the stress level we assumed for 2022."

Rosbank economist Evgeny Koshelev
Still, forecasters warn of significant uncertainty about the outlook. The faster-than-expected imposition of limits on Russian energy in Europe could dampen sales in the second half, as could a drop in demand if fears of a recession prove justified.
Signs of tighter supplies in Russia in recent months could mean the pain of sanctions will intensify as supplies run out. The strength of the ruble may cause exporters to cut production as they are priced out of the market.
Loading
"There are reasons for optimism," said Natalia Lavrova, chief economist at BCS Financial Group in Moscow. "The risks are somewhat lower for 2022, but they have also shifted to 2023 because of the oil embargo," she said, referring to EU plans to curb imports next year.
Bloomberg
The Business Briefing newsletter delivers key stories, exclusive coverage and expert advice. Sign up to get it every weekday morning†